Welcome to the Food Science Institute!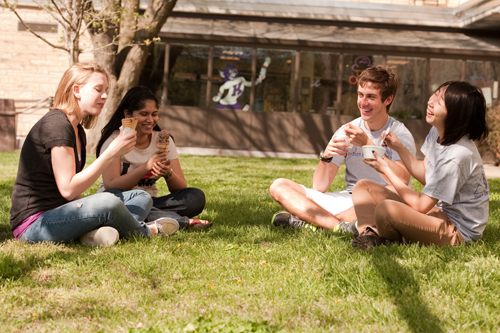 We invite you to take a virtual tour of Call Hall and some of the programs we offer through the Food Science Institute.
Food Science Institute in the News
Spring 2020 Graduates

Congratulations to all of our graduates! We are proud of you!
College of Agriculture Recognition
Congratulations to Daniel Vega, FSI graduate student, for being recognized during the 2020 Richard Elmore Brown Graduate Student Teaching Award event. Daniel was awarded the National Food Safety Auditing Scholarship and Education Travel Grant Award from the Food Marketing Institute.
Spring 2020 Gamma Sigma Delta Award Winners
We congratulate the following for being selected for Spring 2020 awards:
Dr. Valentina Trinetta, Outstanding Advising
Ellen Mendez, Master's research award, Graduate student
KC-IFT 2020 Student Scholarship Winners
Due to COVID-19, KC-IFT had to cancel the student recognition event in Manhattan this spring. Luckily,
four deserving students are still being awarded scholarships! Congratulations to the following students
who were awarded the 2020 KC-IFT student scholarship awards:
Jaden Castinado - Undergraduate in Food Science and Spanish
Delaney Webb - Masters in Grain Science
Karin Thorsen - Master is Food Science
Bade Tonyali - PhD candidate in Food Science
Blue Key Honor Society announces 2020-2021 members
Seventeen K-State students are receiving a premier leadership opportunity with their selection as members of Blue Key for the 2020-2021 school year. Membership eligibility is based on all-around leadership in student life, high scholastic achievement and service to others. Congratulations to Jaden Castinado, food science and industry, Spanish and global food systems leadership, Overland Park, KS, for being selected. Jaden was also a nominee for the 2020 Kyle Pelton Student Employee of the Year. We thank Jaden for all the work he does for the Food Science Institute and for being an outstanding student!
Tillman Family Undergraduate Scholarship awarded to four undergraduate students
Four undergraduate students in the College of Agriculture were selected as recipients of the Tillman Family Undergraduate Scholarship, administered by the Department of Plant Pathology. The four students are Brock Hazelton, Abigail Parker, Kenny Dodson, and Daniel Tran. These students have demonstrated outstanding academic performance in the Plant Pathology minor and/or in Plant Pathology undergraduate research. Daniel Tran is a junior in Food Science and we congratulate him on this award!
Maci Rocker receives Senior award
Congratulations to Kansas State University student, Maci Rockers, for being been selected as the recipient of the 2020 Outstanding Food Science Senior Award sponsored by National Beef Packing Company. This is a prestigious recognition and one of which very deserving!
---