Student Spotlight
College of Agriculture Graduate Student of the Month - April 2023

Ashton is looking at different beef jerky processing methods to see which one yields the best quality output through various testing methods. This is important because the information will be used for small meat processors to understand if their current methods are allowing them the most optimization for their products.
She hopes to work in the industry for an agriculture or protein-based company doing research and development.
Ashton is receiving her Masters degree in Food Science under the direction of Dr. Elizabeth Boyle.
Wildcats Forever Scholarship
We congratulate Sydney Cress, undergraduate student in Food Science for winning a $1,000 scholarship from the K-State Alumni Association Wildcats Forever scholarship fund.
College of Agriculture's Graduate Student of the Month - October 2022
We congratulate Gunvantsinh Indrasinh Rathod, PhD student in Food Science, for being selected as the Graduate Student of the Month for the College of Agriculture! His research focuses on improving the functionality of milk protein ingredients such as milk protein concentrates and non-fat dried milk using selective fibrillation of whey proteins. The goal is to reduce the use of non-dairy ingredients and producing more clean label ingredients. His advisor is Dr. Jay Amamcharla.
IFT 2022 Division Winners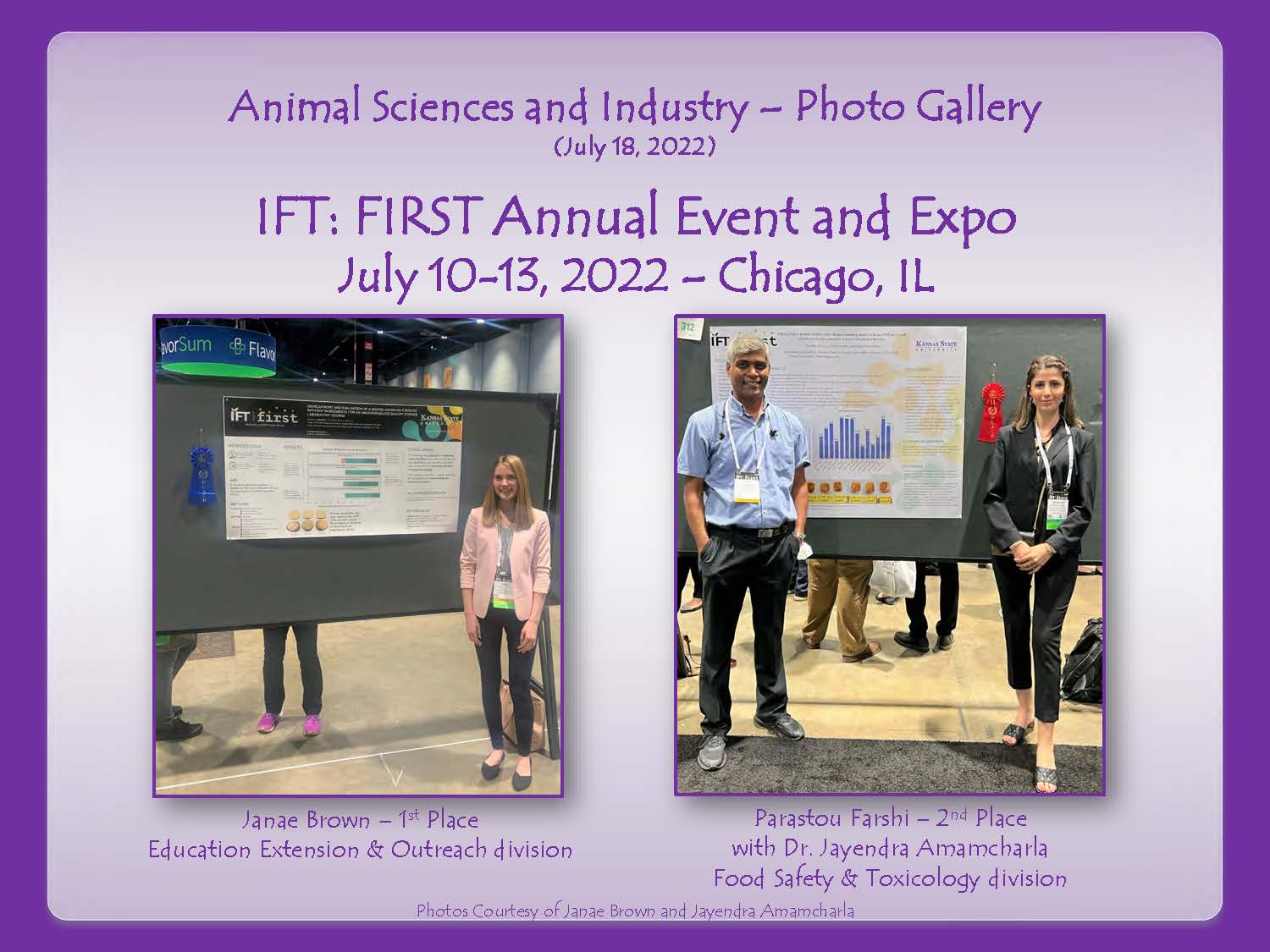 IFT Award Winners!
Congratulations to Eda Kaya, graduate student in Food Science, for receiving third place in the 2022 IFT Food Packaging Development competition! Her project was Acetyl-triacylglycerol incorporated sorghum DDGS biodegradable packaging film. Congratulations Eda!
Outstanding Food Science Student Awards
The Kansas State University Food Science Institute has selected the 2021-22 winners of the Outstanding Food Science Students awards. Scuyler Zenger received the Outstanding Food Science Senior Award and Daniel Vega received the Outstanding Graduate Food Science Award. We congratulate both of these students on their achievements!