Food Science Institute Academic Resource Center
Danisco Sponsors Academic Resource Center to Reduce Student Financial Burden
The Food Science Institute is very proud to announce that Danisco, a world leader in ingredients, enzymes and bio-based solutions, is sponsoring the new, Food Science Institute Academic Resource Center (FSI-ARC) for K-State food science students. This program is designed to reduce the cost to students of obtaining an undergraduate food science degree by reducing the ever-increasing costs of buying books each semester. It is designed to be a "gift that keeps on giving" to our students from Danisco since their financial donation will purchase books that can be reused by many over several semesters, as opposed to direct one-time scholarship awards. "Think about it this way", says Dr. Randy Phebus who originally envisioned this program. "Danisco provides $25,000 to purchase books and set up the center with a 5 year commitment. If we have 20 students who save $500 a year in reduced book costs, that equates to $10,000 per year in student savings (or $50,000 over 5 years). We just doubled the value of Danisco's original donation! In reality, we have approximately 75 undergraduate food science students, so the return on Danisco's investment could be much greater if we have good student participation."
We are elated that the sponsorship was received just prior to the beginning of the Fall 2009 semester, thus allowing us to begin the full program a semester earlier than expected. The Institute has purchased multiple copies of various textbooks for the classes listed below and will have them available in the Food Science Institute office (216 Call Hall). These textbooks can be checked out by food science students on a daily basis between 7:30 AM-5:00 PM, or overnight if desired. You can drop by, get a library card for the Academic Resource Center, take the book to class, do your homework, have a group study session, and bring the book back to us before the end of the day or the next morning. Checkout will be on a first come/first served basis.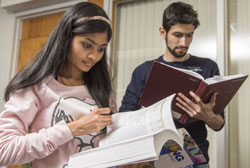 The textbooks purchased are associated with general courses required in the undergraduate curriculum, and also because these tend to be some of the more expensive texts that students are required to purchase. The courses selected are the non-food science required courses in the curriculum because most students elect to sell these books back at the end of each semester. Textbooks from core food science courses are often kept by students for future professional reference.
Dr. Randy Phebus, phebus@k-state.edu, will serve as faculty coordinator of the program. Please feel free to contact him at any time with your thoughts and/or suggestions for furthering and improving this new student-based program.
If you're taking one of these classes, let us help you save some money! Elsa Toburen, etoburen@k-state.edu in Call Hall 216 can help you out.
Textbooks Available in the Academic Resource Center Library
BIOCH 521 - General Biochemistry
BIOCH 522 - Gen Biochemistry Lab
BIOL 198 - Prin Of Biology
BIOL 455 - General Microbiology
CHM 210 - Chemistry 1
CHM 230 - Chemistry 2
CHM 350 - General Organic Chem
CHM 351 - Gen Organic Chem Lab
COMM 105 - Public Speaking 1A
COMM 106 - Public Speaking 1
ECON 110 - Prin/Macroeconomics
ENGL 100 - Expository Writing 1
ENGL 200 - Expository Writing 2
HN 132 - Basic Nutrition
MATH 100 - College Algebra
MATH 220 - Analy Geom & Calc 1
PHYS 115 - Descriptive Physics
PSYCH 110 - General Psychology
SOCIO 211 - Intro Sociology
STAT 325 - Intro To Statistics
STAT 340 - Biometrics 1
STAT 341 - Biometrics 2
STAT 350 - Bus Econ Stat 1
STAT 351 - Bus Economic Stat 2
We also have select food science-related textbooks and guides available as a resource, including:
The Meat Buyer's Guide
Food Analysis
Food Processing: Principles and Applications
HACCP: Systematic Approach To Food Safety
Food Science